October, 2019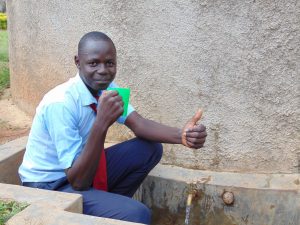 Clean, safe water is essential for satisfaction in life, and this is what we observed during our recent visit to Gidagadi Secondary School. The students were in good shape and health thanks to the water point, VIP latrines, and handwashing stations installed in their school last year.
Water is life, and the unavailability of clean, safe water threatens one's quality of life but this is now a thing of the past in Gidagadi Secondary School as the students now have sufficient and safe water that serves the entire school population. The latrines we built have helped to reduce congestion of students waiting in line for their use, especially during the break time. This has also helped improve on basic hygiene practices like handwashing, especially after visiting the latrines.
By and large, the school is doing well in rain tank management and water conservation and indeed we do see many promising actions. This includes the extension of the gutters to their rain tank to increase the tank's water harvesting capability – something the school administration initiated and completed on their own, using their own funds. We see a bright future for this dedicated group of students and staff.
"Life in Gidagadi Secondary School indeed looks much different today than it used to be before installation of the facilities," said School Principal Mrs. Jane Alashu.
"There has been an improvement in efficiency as time is not wasted at the water source. Waterborne diseases are now a thing of the past as water in the tank is treated regularly. Also, we have endeavored to apply the knowledge we obtained during the WaSH training on good hygiene."
"Quality of life for our members has greatly improved thanks to [the] availability of clean, safe water. Academic time has also been saved as students can now access water much faster and easily as it is available to them. As an institution, we are grateful to our partners for having considered us with the facilities. Indeed we are blessed."
Dominic Dangana is a 17-year-old student at Gidagadi Secondary School who reflected on the impacts these WaSH projects have made on his education over the last year.
"The water and sanitation project has brought [a] positive difference in my academic success as now I access water directly from the school's compound, enabling me [to] create ample time to study."
"Before installation of the water point, I suffered typhoid infection twice [which] meant that our main water source wasn't safe for drinking. Praise the Lord, this is now a thing of the past as [I] am now healthy like never before."
See The Water Project in Dominic Dangana's Community »