October, 2019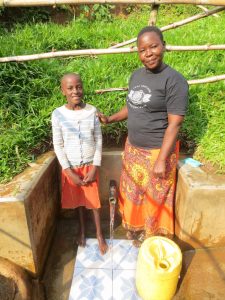 Sanitation and hygiene among Handidi community members have improved over the last year since Chisembe Spring's protection and the associated training and installation of 5 sanitation platforms.
Before this project was implemented, the community used to access dirty and contaminated water from the unprotected source which really affected them. During our most recent visit, people shared how they are glad to now access clean and safe water and consequently, the rate of waterborne diseases has reduced.
This project has improved lives in this community, which is evident when you visit the community members in their homes. You will see clean compounds, clotheslines, dishracks, and people accessing clean and safe drinking water.
"5 family members who didn't have their own latrines were able to benefit from sanitation platforms. They have seen a great difference and they now own [a] latrine and everyone ensures that it's well cleaned to avoid infection or outbreak. Because of the available clean water, parents are now helping their children to practice personal hygiene," said Mr. Indimuli, chair of the water committee in the village.
In addition to Mr. Indimuli, 11-year-old Michelle Mushila also met us at the spring and shared her thoughts on how this project has impacted her life as a student and a child over the last 12 months.
"It has become so easy for us to get water from the spring. Before the spring was protected we used to waste a lot of time waiting for water to settle. At the moment, we can do our school work without any problem and our performance has improved."
See The Water Project in Michelle Mushila's Community »