November, 2019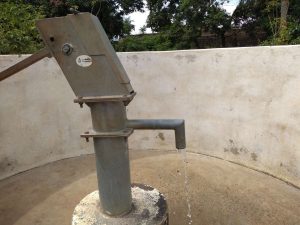 The improvement is very much evident in the lives of the students and community members at Hope Assembly of God School and Church since the inception of their water project a year ago. We observed that people are very happy and are at ease because they no longer wake up early in the morning to fetch water.
"We no longer drink contaminated water. It was a very big challenge to wake up very early in the morning to fetch water. I am no longer late for school and I have enough time now to study," said 10-year-old Rosetta Omoh Mambu to us during a visit to the well.
It was not easy before because the drinking water was contaminated. Little did the community know that it was this contaminated water that brought sickness to the community. After the rehabilitation of the well and the installation of a pump, the well is pure, clean and protected. Sicknesses like diarrhea, typhoid, and dysentery that were posing serious medical threats are no more in this community.
"Water is life and getting clean, pure drinking water at your doorstep is a very big blessing. We have been saved from waking very early to fetch water," added Rebecca Kamara, the caretaker of the well.
This pump has reduced accidents across the street according to interviewees. Our teams were especially impressed at the high levels of sanitation and hygiene maintained by the community and school. Their toilets are clean with water and soap and the community and the well site are well-kept. These changes are effective now because of the provision of safe, clean, and pure drinking water from the well and the lessons learned from the hygiene and sanitation training a year ago.
See The Water Project in Rosetta Omoh Mambu's Community »