October, 2019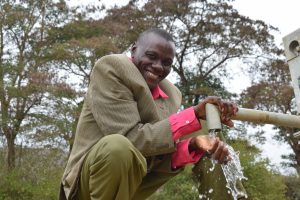 In the past year, Ilinge community members have been enjoying increased water quantity and improved water quality following the sand dam and shallow well project that was implemented in their region a year ago. All the community members can now access clean and safe water with minimal strain.
"Before the construction of this water project we had to walk for 2 kilometers to access the nearest water source. Now the distance has reduced to less than 100 meters because the project is near our homesteads," said Jackson Kyalo, a community member who uses the well.
The water attained from the project is very fresh for drinking, it is safe, and it is also easily accessible at any time of the day. Community members are aware of cost-effective water treatment methods and most of them shared they are boiling their drinking water before consumption which has led to a reduction in water-related diseases.
The environment in the region is very beautiful, serene, and cool with rich green vegetation. Locals have utilized the water for farming, an activity which they have been previously yearning to engage in for years. The area has really changed thanks to the water project and the community members are elated.
At this time in the previous years, the community members would be battling hunger pangs due to drought but now the unlimited water supply has boosted their food security as they have embarked on vegetable farming. This has acted as a value addition to their diets.
"My life is better now since we got water," said Eunice Nthenya, a 28-year-old farmer.
"As a result of the availability of water, I have a vegetable garden which was very hard to sustain initially. I am a very happy woman."
During our recent visit, we passed by a few homesteads before getting to the project's site and the difference observed was admirable. A high percentage of the community members have latrines, handwashing facilities, dishracks, and they have also dug garbage pits to dispose of their trash. This is a very impressive improvement that vividly portrays the seriousness and adaptability of what was trained during the hygiene and sanitation training a year ago.
See The Water Project in Eunice Nthenya's Community »