October, 2019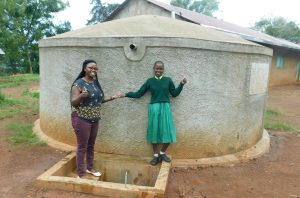 The rain tank, handwashing stations, and VIP latrines installed at Imbale Primary School last year have greatly helped the school. Pupils now have enough water to drink and even to clean the school environment. Classrooms are nowadays cleaned daily and there is also sufficient water for kitchen and general use.
The rain tank has helped the school to solve their water problem. Cases of water-related diseases have greatly reduced and this has also held to reduce cases of absenteeism in school, in turn improving students' academic performance.
"We have observed great changes in our school in as far as water and sanitation are concerned," said Teacher Mr. Victor Livondo.
"Our pupils now have enough water to drink and even to clean as well. The water harvesting tank, VIP latrines, and the handwashing facilities are so helpful to the teachers, pupils, and even school workers. As a school, we are never worried since we are sure that our pupils are now using clean and safe water."
"At the moment we do not have any major challenges in water and sanitation…We shall work together with [the field officers] to ensure that the facilities are well utilized and maintained so that they serve the school for a long time."
13-year-old student Eunice Mmboga reflected on how these WaSH projects have changed her experience at school over the last year.
Note: To hear Eunice say thanks, check out her video on the "Photos" tab on this project page!"
"The project has changed my life greatly. Before this project came to our school we would stay thirsty throughout the day. During days when the sun is so hot, our bodies would be dehydrated and we could not even concentrate in class."
"Today, I take water as many times as I want in a single day. And since the tank is built by cement the water is always so cold and tasty. At least we can now concentrate in class…In our school, we do not have any problem with water. "
See The Water Project in Eunice Mmboga's Community »