September, 2019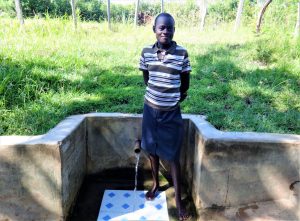 Protecting Laban Mwanzo Spring is one of the best things that ever happened to this community, people in Ingavira say. The area around the spring is well maintained. Community members here are now accessing clean and safe water that is reliable year-round.
Even during last year's dry season, one of the most intense on record, Laban Mwanzo Spring did not dry up. The number of people drawing water from this spring has greatly increased as many people come from far away distances since they know it will be clean and reliable.
Community members in Ingavira can now engage in more income-generating activities such as farming and business since incidences of disease outbreaks related to consuming dirty water have been decreased. This has meant more time, energy, and reserved finances for families to use in other endeavors, and less money spent at the hospital.
"The members of the community are accessing clean, safe, and reliable drinking water," said Ruth Shiundu, a farmer and mother in Ingavira who depends on Laban Mwanzo for water.
"Consequently, incidences of waterborne disease outbreaks have reduced, [and] the number of people drawing water from this protected spring has increased. In addition, many people come from neighboring villages to draw water from the protected spring."
16-year-old Rael Nyarotso, whom we also met at the spring, echoed Ruth's words.
"The water from the protected spring has greatly assisted the members of the community," Rael said. "The water is clean and safe for domestic use. In addition, cases of disease outbreak have to a large extent reduced. This was not the case before the spring was protected."
"Protection of the spring is a big boost to the women in the area because water is readily available. Now that water is readily accessible, this allows members of the community to engage in other on-farm and off-farm economic activities."
See The Water Project in Rael Nyarotso's Community »