October, 2019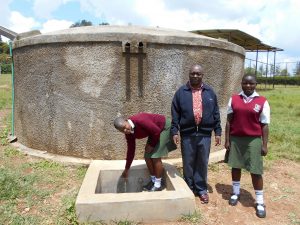 A year after their rain tank, VIP latrines, and handwashing stations were installed, Kaimosi Demonstration Secondary School looks more settled, reported our team from a recent visit.
"There are no students moving in and out of the school as compared to last year when one would find students all over trying to get to the stream [for water]. The school is well on its feet and moving forward…A good group indeed. The administration has also been able to channel water pipes from the county supply to the tank to act as a reservoir. The tank is also kept under keen lookout to ensure there are no wastages or damages," reported Field Officer Ian Nakitare.
The piped water improvement Ian mentions is a positive sign that the school is continuing to take initiative to improve their water situation whenever and however possible. Using the rain tank as storage for this water is a great step, and the security they are providing over their tank and school grounds will help to ensure a well-maintained and functional water point.
"Since the construction of the tank, we have seen lots of changes,' said School Principal Mr. Patrick Amalemba.
"First, our population has gone up by almost 50%, from 471 to 678 [students]. Other changes are in terms of performance and character…The students used to [get in trouble goofing off] while going to the stream, [but] now that we have a water source in school, none of that is heard. We've seen a lot of benefits from having a water source within the school compound and we are very grateful. Honestly, we've focused so much on what this tank has done for us that we do not see any other challenges."
16-year-old student Yvonne Igamihi also reflected on how these WaSH projects have impacted her time as a learner over the last year.
"I am more at peace while in school. I don't have to go to the stream every other time [I need water]. The water is also treated so now I get clean water that I am sure of. Water from the stream now sounds like poison!" Yvonne said with a laugh.
"I do not face any challenges anymore. Having the tank has really helped do away with what we used to experience."
See The Water Project in Yvonne Igamihi's Community »