September, 2019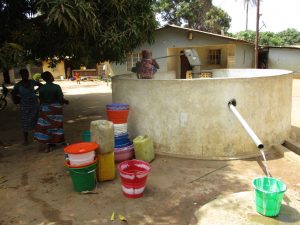 Life has truly changed for the people in Kasongha community. Houses are being built knowing that there is safe and available water in the community. Children go to school on time because they can now easily access water within their community.
"The health condition in this community has improved greatly," said Fatama Binta Jalloh, the caretaker of the well, to our team during a recent visit.
"Personally, whenever I used water from the stream my body scratched for the rest of the day. With the well you provided, the community now has clean and safe water. Now, I can wash with no complications for my skin."
Maseray A. Turay, a 16-year-old girl who fetches water from the well, used to travel down a hill to get water from the nearest river. She said the trip was risky just to get water that would give her a rash and was unsafe for drinking. With this well, she no longer has to make that journey or suffer the health consequences.
"My life has changed tremendously to a better state. Now the community is living a healthy life, especially we the children of this community," she said to us.
Based on our team's observations, the sanitation aspect of this community is gradually growing. Now the community boasts a 95 % rate of toilets with handwashing facilities.
This change was caused by the acceptance and application of what has been taught. It is supported by the constant teaching of the hygiene and sanitation team and monitoring of the well through our Monitoring and Evaluation Officers.
See The Water Project in Maseray A. Turay's Community »