June, 2019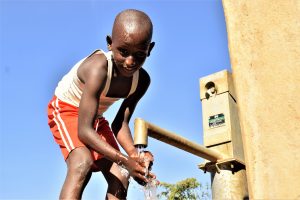 Katung'uli community members are elated about the water project that was constructed in their area. As we got to the water source on the day of our visit we found women jovially fetching water and doing their laundry.
People here are happy because they have attained clean drinking water from the sand dam and adjacent hand-dug well.
Both hygiene and sanitation have improved with the presence of water. The distance covered to fetch water and the time spent on this chore has decreased.
"The water source is very close to my home, which makes it easy for me to fetch fresh water for drinking and cooking. Conducting the household chores is manageable due to the availability of water," said Elizabeth Nduku.
"Contentment is an understatement for what I feel since the implementation of this project."
Solomon Kyalo, a 17-year-old boy we met at the well agreed.
"My brother and I normally come to drink water at this source after a long day spent at the field or in the farm. The water is very fresh and cool," he said.
Waterborne diseases such as dysentery and diarrhea are unheard of as the community members drink clean water from the water source.
Their environment has also changed immensely due to the availability of water. Farmers are using water from the dam and well to support their crops.
"Through this project, my mother has managed to plant vegetables at our small farm and we can now change meals and the diet frequently," Solomon said.
The environment is very beautiful and green, reported our field officer. There is a lot of water which makes farming projects and agribusiness very feasible. Community members are very excited about the progress and changes brought about by the water project.
See The Water Project in Solomon Kyalo's Community »