October, 2019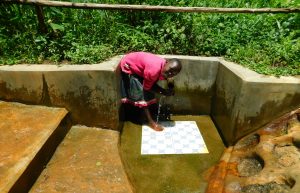 Field Officer Wilson Kipchoge recently visited Henry Kichwen Spring in Koitabut to check up on the spring and interview community members about the project's impact in its first year since completion. Wilson shared the following reflection from his visit:
"As you enter this community, the compounds look very clean and green due to the high standards of…hygiene that are practiced by community members, thanks to the hygiene training that was done. Moreover, community members have carefully made sure that the water from the spring is consumed freely without restriction on members who did not contribute during [the] construction of the spring."
"For this group of people, [the] availability of abundant, safe, clean water is a blessing to them since they rely on it as their only main source of water. The water is sufficient enough to serve them and available at all times of the year. The environment looks very green with trees around the compounds, flowers near homesteads, and grass covering the ground, thus providing a natural carpet."
Ivan Kibungei Lukaye is a community member in Koitabut who relies on Henry Kichwen Spring for his daily water needs. Ivan met with Field Officer Wilson at the spring to share his thoughts on the project's effect on water quality.
"Since this spring was constructed last year, we [are] now drinking very clean water unlike in the previous years where we could not drink water from the then-open spring," he said.
"Construction of this spring has helped lock out any contaminant that could enter into the spring and spoil it, thus making it unsafe for human consumption."
10-year-old Shaline Jeruto was also there, and offered a different perspective as a young girl and student in her village.
"For me, water from the spring is good and does not make me get sick when [I] am at home and also at school. Before this project was done, I could miss [school] for some days because of headache and stomachache [related to waterborne diseases]," she said.
"But today, [I] am very happy that diseases like typhoid and cholera have gone forever and [I] will live a healthier life as I pursue my education as a young girl."
See The Water Project in Shaline Jeruto's Community »