November, 2019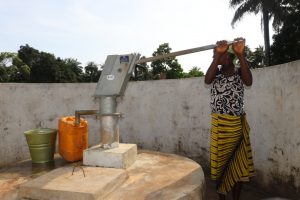 The water from the well at 35 Port Loko Road in Komrabai Community, Sierra Leone is clean and safe and the people are living happily because of this project, reported our field officers after a recent visit. Things really have improved in the year since the project was completed.
"We were suffering for water and finding it difficult to clean our community," said Foday S. Turay.
"But now our community is clean and we have proper training on how to take care of our environment and observe proper hygiene and sanitation. All these changes occurred due to this water facility implemented in our community."
These people are truly trying their best to live up to the expectations and sustainability of this facility, said our field officer. They are practicing good hygiene and sanitation in the community.
Community members are cleaning their containers whenever they come to this facility to fetch water and they are observing safer water storage in their various homes as compared to before. They make sure all their containers have stoppers and their buckets are covered to avoid water being contaminated by waterborne diseases from the well to their homes.
"My life has changed because before I used to cover a long distance to fetch water and the place [was] very difficult to reach. But now I am happy and I am living a very comfortable life with clean and safe drinking water at my doorstep," said 15-year-old Mahawa Kamara.
Walking through this community, pit latrines are visible and in use in every neighborhood which shows that there are changes over the past year because of the implementation of this water project in this community.
See The Water Project in Mahawa Kamara's Community »