October, 2019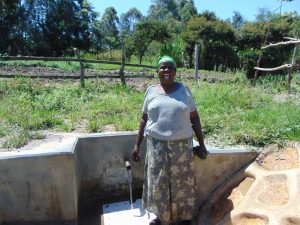 Bilha Matolo is the secretary of her community's water committee that looks after Matolo Spring in Luyeshe. On our most recent visit there, we asked Bilha to reflect on how the protection of Matolo Spring has impacted her life and the lives of her neighbors over the last 12 months.
"The changes that have occurred since last year are many. [The first is] having clean and safe water for all my people. This was something we did not have before the spring was protected and this is the major change we have."
"My fellow women are seen busy in their farms producing food for they now have time which was lost in taking care of sickly children and also a lot of time was wasted at the spring. Since the project was completed, all these are unheard of."
"We used to have noise every now and then from women fighting over getting clean water for if you come after someone else then you will get dirty water. This is no more for we have clean and safe water which you can access anytime."
17-year-old Yvonne Evayo, a student and community member in Luyeshe, also shared her powerful thoughts about the project.
"My life has changed greatly in many ways, but more specific in [the] health sector. [I had] been having stomach problems and when I went to [the] hospital [I] was diagnosed [with] typhoid and amoeba. These two come from dirty water and uncleanliness, maybe [from] taking food that is not good."
"My education was deteriorating every month but since this group came in I see great improvement. No more drugs [for illness] as initially, no stomach pains and more of my time is spent on books. I get water from the spring in less than 2 minutes, get home, finish with the house chores, then embark on serious business."
"During the training, we were taught how to balance the tasks and the responsibility we have for us to be successful and this is indeed what is happening. This is the greatest lesson I learned and that is benefiting [me] since then."
Bilha and Yvonne were interviewed by Field Officer Jemmimh Khasoha, who shared the following report with us reflecting on her visit and interviews:
"The lives of the people of Luyeshe Community have greatly improved in the past year in various ways as follows: The major change seen was the clean and vegetated farm with all types of vegetables. The spring owner explained that since the training was done, she has seen her farming techniques grow better and house chores balanced for they were educated [on how to do this]. Provision of the clean, safe, and sufficient water protected enables them to water their plants even during the dry season. This has enabled them to have food throughout the year.
The general homesteads are well kept in tidy and clean shape. Many have dishracks, clotheslines, compost pits, and have trimmed the long grass and the bushes within. This shows that the training was well mastered and what was learned put into practice.
This group is very organized and articulation of issues is good. When the interview was conducted, they would refer that during the training we were told this and that – this sent the signal that it is a group which is good.
One lady that is Matolo has taken the initiative of educating her fellow community members farming techniques for she has changed her farm to be a demo plot. She calls them and teaches them how to plant drought-resistant crops like sweet potatoes which will help them eradicate poverty. She explains that she has schooled children from this farming and she is proud to see other women work the same.
Some of the crops she plants like the sweet potatoes, which are orange-fleshed, have various advantages. These are that the leaves are used as vegetables, the potatoes themselves can be boiled and taken with tea, they can be crated and dried to produce flour for porridge or making chapati. All these are ways and methods of eradicating poverty, refusing malnutrition in children and also a way of earning income.
This is very good for the implementation of this spring brought peace, unity, and ensuring all these are done. It is a good group where learning exchange programs can be arranged to help many others within this locality."
See The Water Project in 's Community »