November, 2019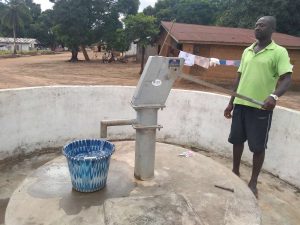 The reliable water from the well at the Mosque in Mabendo Community has been a positive contribution to the people living here for the past year.
This is a religious institution that requires that its followers use water anytime they choose to pay a visit. Washing some strategic areas of their bodies before entering the mosque is regarded as a holy ritual. The people no longer have to scramble for water to observe their ablution before going into the mosque.
This in itself is a major change in their lives.
"Things are better than before. We have water in our community and we are not late again for school. In the past, we used to wash our feet and hands at home before we come here to pray. Now, we do everything here at the mosque because there is water available for us to use," said Adama Kamara, an 11-year-old boy we spoke with during a recent visit to the well.
The mosque environment is also very clean and one can sense happiness from them, shared our teams after their visit. They also noted that people are happier because the access to water is making things easier for everyone.
"I am very happy for this project for two main reasons. Firstly, our children no longer suffer the stress of swamp visits. Secondly, lateness in school is eliminated. Before now, they used to go down the swamp to fetch water and that has always contributed to their lateness in school," said Chief Pa Adekallie Kamara.
"Now we have easy access to water."
See The Water Project in Adama Kamara's Community »