September, 2019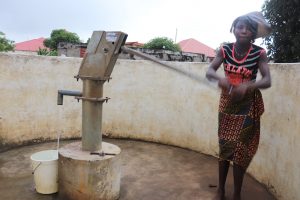 The people of Mahera Community who live near the well at 3 Robolla Street are doing great a year since the water project was completed. Now, there is a reliable source of clean water for everyone here to drink.
"I used to buy packaged water to drink, but after this project was completed last year I drink fresh, clean pure water for free," said Florence Sina Boya.
The community is noticeably cleaner, and they are taking good care of the pump and their environment.
"Now, I don't face too many problems, especially in the area of water and sanitation," said 14-year-old Ada S. Kamara.
"If I can talk about the sanitation of the well, I will say the facility is taken care of. Women will tie back their hair and everyone removes their shoes before entering the well site."
Now the people are boasting a clean and healthy environment – especially at home. Each house has its own toilet with a handwashing facility.
"I am very impressed with the sight of these facilities. The community has truly grown to another level," reported field officer Omoh Emmanuel.
The intervention of our organization's hygiene and sanitation team, a team community members hold in high esteem for their good work, has made a big difference. The community cooperated greatly during the hygiene and sanitation training last year. This cooperation has paid off here and the evidence is great improvement in the community's health performance.
See The Water Project in Ada S. Kamara's Community »