October, 2019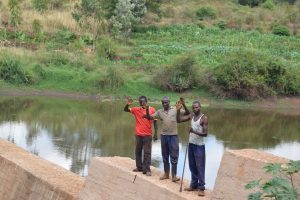 "The past year has been the best for my family and me," said Miriam Kailo, a 42-year-old farmer from Masola.
The lives of people here have improved in the past year due to the water harvested by the sand dam and pumped from the shallow well that was constructed a year ago. There is plenty of water which has been used for farming of vegetables such as tomatoes, kale, and spinach. The water source is easily accessible to the community members and the distance covered is less than 500 meters for the majority of households.
"The water attained is [in] plenty and it can sustain our needs. Since the completion of this project, the sand dam has harvested volumes and volumes of water," Ms. Kailo said.
The environment has improved as it is characterized by greener vegetation and serenity. Farmers tell us that they are now able to grow more crops due to the ability to easily irrigate their land – even during the dry season.
"The water has been used to improve our farming activities which have expanded most of our business activities as well as income generation," said James Wambua, chair of the water committee.
Overall levels of hygiene and sanitation have improved as a result of sufficient water at the well. Health problems have reduced because the water used is safe and the members are keen on water treatment to help keep the water clean.
"There are fewer complaints of diseases such as typhoid and amoeba. Hygiene and sanitation have also improved and household chores are performed easily due to easy access to water," Mr. Wambua added.
See The Water Project in Miriam Kailo's Community »