October, 2019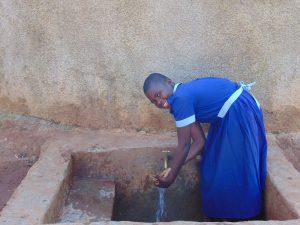 Life for students and staff at Matsigulu Primary School has changed since the installation of their rain tank, handwashing stations, and 6 VIP latrines last year.
This is because they now have peace as a school community compared to the past year when they used to quarrel about the losing of jerricans. On this matter, parents would approach the school and start raising noise about their lost property.
Secondly, the school now has clean and safe water for drinking from their rain tank, and they no longer rely on students bringing water from home. On our most recent visit, we saw how the school grounds are kept neat and tidy and the classrooms are cleaned with water from the tank.
"The biggest changes in our school [are] that we wash [our] hands every day [and] we now have our own toilets [as staff]. A lot of time was wasted last year going to bring water, but now the time is compensated in classes and our performance has improved. Our LifeStraw containers run throughout [the day so] we have enough water," said Sanitation Teacher Mrs. Beatrice Andare.
15-year-old student Marion Kageha also reflected on how we experience as a learner has been impacted by these WaSH projects over the last year.
"We are safe and free from waterborne diseases because the water in the tank is [treated] and readily available," Marion said.
"We used to go the spring, and it was a must [that] we cross the tarmac road and it was risky for our lives but now water is found within the school, hence saving a lot of time in class."
See The Water Project in Marion Kageha's Community »