November, 2019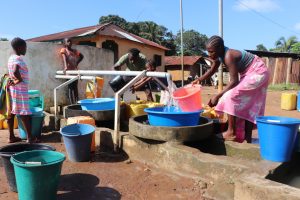 What the people living near 63 Spur Road in Modia Community, Sierra Leone have enjoyed for the past year is the use of 2 pumps inside 1 water point.
Because this well is so heavily used, we decided to try something different. Instead of drilling 1 borehole down inside of the hand-dug well, we drilled 2 boreholes down inside of this well and installed 2 pumps with 2 stations for the members of this community to collect the water. This kind of project is the first of its kind in Lungi, Kaffu Bullom chiefdom.
A year later, it appears the people using it are very happy with the dual well.
"My life has changed for the better because I can now go to school on time and have clean water not far from my house. As a student attending the local secondary school, I can now afford to get clean water throughout the day and year," said Ali Dumbuya, a 17-year-old student who talked to our teams during a recent visit.
The students used to go to school late because of the high demand for water in the community. Before the rehabilitation, the well often ran dry and people waited in long lines just to get water. The installation of the 2 pumps has greatly reduced the traffic and helped students and community people in getting safe and clean water.
"The biggest changes are that people fetching water now spend less time at the water well, and students now have access to clean and safe water all year round. As a student of a nearby secondary school, I do not have to go to the swamp again to fetch water to drink or [to] launder my clothes," added Ibrahim Sorie Kamara.
See The Water Project in Ali Dumbuya's Community »