November, 2019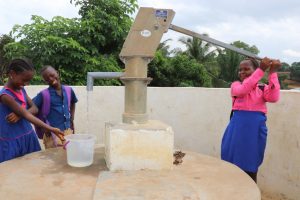 Tremendous development has so far been seen for the past year since the completion of the well project at 720 Main Motor Road in Molokoh, Sierra Leone. The reliable well has eased the burden of going to the previous water source which is approximately two miles to and from their houses.
"We no longer go to the swamp to fetch water. The distance to the previous water source was so far and until you see your kid safe at home you will not be rest assured. Now we have water easily at our disposal," said Mariatu S. Kamara.
"Our health has truly improved. We are very thankful and appreciative of you."
Sicknesses like dysentery, cholera and diarrhea, which were very much prevalent in the town, are seriously reduced and are fading out. Issues like kids and women falling down and breaking their containers are things of the past.
"Great change has taken place in the past year. I am now saved from waking up in the morning by 6:00 am to fetch water in that distant and strenuous place. My elders used to bully me a lot along the path to the swamp. Thank God for the pump!" said Nanah Kamara, a 14-year-old girl
A lot has improved, particularly in the area of hygiene and sanitation. We found that community members are putting into practice the lessons they learned as a part of the hygiene and sanitation training that accompanied the construction.
"The hygiene and sanitation practices the hygiene team thought us is properly been implemented by the clean and pure water been provided to us. Our toilet and surroundings are been taken care of frequently," said Mariatu.
See The Water Project in Nanah Kamara's Community »