November, 2019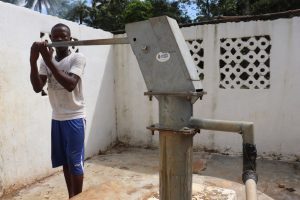 Our field officers recently visited the well at Moniya community in Sierra Leone. They noticed a lot of changes in the community in the year since the project was completed.
"Since this project was completed, we have never strained for water in this village. The pump is constantly running for 1 year now with no problem as compared to the previous one. We no longer go to the swamp to fetch water and also the sickness rate has reduced drastically," said Isata Sillah.
When there was a shortage of water in the community, the villagers use to fetch water from the swamp for their drinking and domestic use. We noticed that is no longer the case. People here are not going to the swamp to fetch water.
Our field officers deliberately asked the question during the visit if people are still using the swamp.
"No!" he was told by someone fetching water at the well.
"Now we have realized that drinking water from an open well or swamp can expose us to so many diseases, so I cannot imagine that anyone from our village can do that."
We also observed that the village has improved greatly in the area of water and sanitation. The change was obvious through the appearance of dishracks and tippy taps – tools that people here learned about during the hygiene and sanitation training conducted alongside the construction of the well. That training has been bolstered by the teachings and constant monitoring of our field staff.
See The Water Project in Isata Sillah's Community »