September, 2019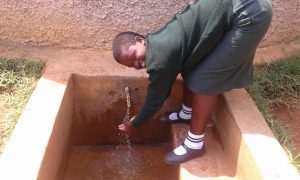 Project implementation at Mulwakhi Secondary School has brought about a positive impact on the institution.
On a recent routine field visit there, we were told how immediately after handing over the facility to the school a little over a year ago, the school has experienced tremendous improvements. This was so fulfilling to hear our hopes for this school realized.
When one gets to the school's compound, immediately you spot a clean and quiet environment and students well dressed in clean uniforms. Both the toilets and the water point are well maintained and in a good state, an indicator that the school has indeed appreciated the facilities.
A visit to the various classrooms shows the level of cleanliness due to routine cleaning, thanks to the availability of water. These are all clear markers of the impact of not just improved access to water, but of the hygiene and sanitation training conducted at the school last year.
"As an organization, we have experienced tremendous changes which include [the] availability of clean, safe, and sufficient water at all times," said Deputy Head Teacher Aggrey Kadagi.
"Installation of the sanitation facilities has helped the school have enough toilets for the entire population…Our students now have ample time [to do] their studies and this can [be] related to the availability of water in the school."
16-year-old student Truphena Nyangai shared how these projects have impacted her and her classmates in their first year since installation.
"Before [the] implementation of the facility in our school, we used to draw water from outside the school's compound but this changed immediately after installation," she said.
"I am now able to concentrate on my studies as much [more] time is available. My personal hygiene standards have improved greatly after the hygiene and sanitation training. I am able to learn in a clean environment as every day we clean our classes with water which is available in the school's compound. I am now able to drink water that is clean, having been treated."
See The Water Project in Truphena Nyangai's Community »