July, 2019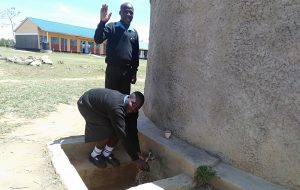 Just over a year ago, Mutsuma Secondary School was issued a closure notice by the public health department due to their dire hygiene and sanitation situation with no latrines. Initially, no water was available in the school thus making it impossible for the students to clean the classrooms. Water for uses like cooking and drinking came from the community members who were deployed for casual labor, which was not economical since the school was still new.
Today, that story has been turned on its head.
Mutsuma Secondary School has seen admission rates rise by 20 pupils over the last year – thanks to the inception of the water projects installed there.
16-year-old Lorine Khavia, a student at Mutsuma Secondary, notes how her life and the lives of other students at her school have changed since the installation of the rain tank, latrines, and handwashing stations.
"The project has really brought life to us," she said.
"I remember the last time when people from public health came to close our school because we did not have latrines. Now I am happy that [you] came in…to save our situation. Now we are happily using the new latrines."
See The Water Project in Lorine Khavai's Community »