September, 2019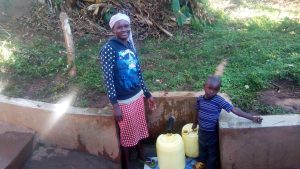 There has been peace and harmony in Mwichina since the protection of Mwichina Spring last year.
Before the protection of this spring, women could come and start gossiping about one another as they waited a long time for the water to clear up before fetching it, and while they waited their turn in line. Now the source is well protected and no more than two minutes are wasted at the spring to fill up.
A year later, the spring is well-maintained and the community has even proactively collected money from each household, just in case repairs may be needed. Nathan Mbaye, a community member in Mwichina, shared some of his thoughts on how the WaSH projects have impacted his life over the last year.
"Some of us didn't have our own latrines and we used to share the same latrine with our in-laws which is against the culture in this place. But since the introduction of [the] sanitation platform, we now own a latrine and this has enhanced respect amongst ourselves."
20-year-old Jane Mandela also met us at the spring. Jane, along with the rest of her family, depends on Mwichina Spring for their daily water needs.
"Personally my life has really changed because I could spend a lot of time at the spring waiting for the water to clear up and yet I had homework that I was to do," Jane explained.
"Nowadays we have every reason to smile because we can access the source and draw water immediately and the water is very clean. We are not worried at all. "
See The Water Project in Jane Mandela's Community »