November, 2019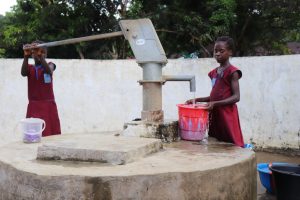 Things at Pewullay Primary School are better in the year since the rehabilitation of their well. The most significant improvement the students have enjoyed over the year is that they no longer come to school late due to time spent getting water each morning.
Now, they have clean and safe drinking water in the school's compound.
"We thank God because there are so many changes that occurred during this year. Before we used to have many challenges. Our pupils used to come to school late because early in the morning they had to go to the stream to fetch water [where] they spent more than an hour. By the time they came home and got ready for school they were late," said Deputy Head Teacher James S. Thullah.
"But now they don't come to school late and the environment [is] very conducive for learning because of the implementation of this water project in our school."
The school has an active child health club that is responsible for maintaining the standard of hygiene and sanitation in the school and the community. The members of the child health club are teaching the rest of the school how to practice handwashing and personal hygiene. These changes, alongside the availability of water from the well throughout the school day, have contributed to the changes our teams observed during a recent visit to the school.
"My life has changed greatly. Our teachers give us priority over the well because it belongs to us. We are so happy about that and we are doing our best to sustain it," said 12-year-old student Kadiatu J. Thullah.
See The Water Project in Kadiatu J. Thullah's Community »