November, 2019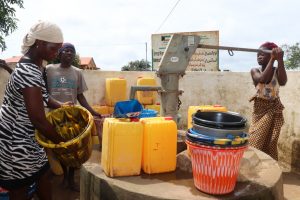 The lives of the students and community members around Royema MCA School have improved over the past year. Our team observed a trend in community growth as a result of their water point. According to some interviewees, the availability of water is one reason for the improved population.
"The changes are numerous," said Mrs. Kadiatu, one of the caretakers of the well.
"We used to fetch water from the swamp which we normally used for drinking, but now we have our own water in the community which is pure, fresh, and clean to drink. If the pump breaks down, as soon as we call the office they will come and fix it within a day."
Water has brought "life" into this community, said Field Officer Omoh Emmanuel. He reported a healthy community. The children and the women were all happy, he said.
"We always drank from the swamp source, but that is no longer the case. Today, we are drinking from a well-sanitized source," said Doris Mansaray, a 13-year-old student at Royema MCA School.
The sanitation in the community has also improved greatly. Plenty of homes have handwashing stations and toilets. Some even have water and soap inside. We believe this community has much more positive growth and development to come.
See The Water Project in Doris Mansaray's Community »