October, 2019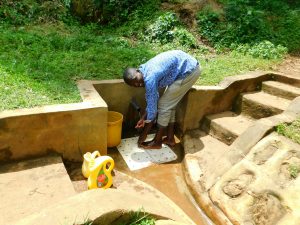 Field Officer Wilson Kipchoge recently visited Isaac Rutoh Spring in Samisbei to check up on the spring and interview community members about the project's impact since completion. Wilson shared the following reflection from his visit:
"The beneficiaries of this project have really been transformed from one step to another by providing them with safe drinking water and sound sanitation…Before this project was done, the beneficiaries used to fetch dirty water from the spring to be used for both drinking and other domestic chores. Since the completion, the community members are getting safe water from the protected spring which now gives them hope of better health.
Moreover, [their]  sanitation status has also improved with the provision of slabs for the latrines which are safer and easy to clean and above all [have] the ability to [be] removed and put on a new pit when the older one gets filled up…Diseases related to dirty water and lack of proper sanitation have been dealt with due to the presence of these facilities."
Calvin Kipchumba is a young man in Samisbei who depends on Isaac Rutoh Spring for his daily water needs. Calvin met up with Field Officer Wilson at the spring to share his thoughts on the project.
"This project has really helped us and our neighbors in a very special way. The water that comes from the pipe is so clean and sweet, which means that it is very safe for us to [be] drinking without the fear of getting water-related diseases like cholera and typhoid."
"In the previous years, we were suffering from consuming water from a very dirty spring which [was] very open to contamination, especially dirt from containers used for storing local liquor known as chang'aa which could make the water very smelly and unsafe for drinking. Also, nowadays you can accept [an] invitation to visit a friend within the area because there is [an] assurance of safe latrines."
11-year-old Faith Lukhanji was also at the spring and reflected on what the project has meant to her as a young girl and student in her village.
"Every day I drink clean and safe water from our spring," Faith said.
"The water from this spring does not make us sick or even cause our parents to spend money to buy chemicals to treat the water because our water is clean. We thank all the people who helped us to get safe water and reduce diseases that would always make us be absent from school."
See The Water Project in Calvin Kipchumba's Community »