September, 2019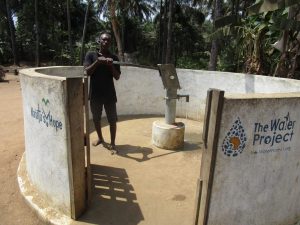 Life for the students at Sankoya Prophecy Primary School and the nearby community has changed greatly due to the work done on their well a year ago.
"The change that this project has created in my life is that, since the rehabilitation of this well, I do not waste time running from the school campus to the stream to fetch water which is not even pure. Now, I have access to safe, clean and pure water for drinking," said Fatmata Kamara, a 12-year-old student at the school.
Mohamed C. Kamara, the caretaker of the well, similarly noted the importance of the well to the school. He told us about how the students used to lose time in the classroom when they had to go fetch water from the stream.
The situation here has improved immensely over the past year also due to the hygiene training conducted alongside the rehabilitation of the well.
Community members were taught about their personal hygiene and they fully cooperated with the teachings by implementing what they learned. Teaching people how to improve their personal hygiene and sanitation practices has led to the improvement of life in this community. That is what brought about the change of life to the people of this community.
See The Water Project in Fatmata Kamara's Community »