July, 2019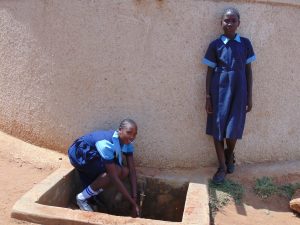 A year after the implementation process, Shamalago Primary School is in full gear.
The community now enjoys the availability of clean, safe, and sufficient water for use thanks to the installation of the tank in the school's compound. There has also been an improvement on hygiene standards (both personal and environmental) as spotted during our walk in the school grounds.
This is an indicator that the hygiene and sanitation training was successful and well-received here. The school community also has handwashing stations designated at certain points which allow both students and staff to clean their hands when need be. This has helped solve many cases of stomachaches that previously plagued the school.
Head Teacher Martin Musembi was glad to share with us the many ways he has witnessed his school community change for the better over the last 12 months.
"Implementation of the project in our community has indeed been a blessing to us. In this one year, our lives have never been the same [as before], and we do appreciate our [project] partners," Martin said.
"As a community, we now enjoy availability of clean, sufficient water thanks to construction of the 50,000L tank which has now allowed us [to] have time [to] concentrate on our studies compared to years when our pupils had to go out of the school's compound to fetch water [as] this interrupted normal class hours."
"The school's performance has improved drastically, as this year we were able to clinch Position 4 from Position 5 the previous year in our zone. Rate of absenteeism has indeed gone down in this past one year, and this can be connected to the project implemented [here]," Martin continued.
For 14-year-old student Celine Khaoya, she feels the difference at Shamalago every day.
"A year after installation of the project in our school, as a pupil of Shamalago Primary School I now enjoy and have ample time concentrating on my studies compared to years back when our normal class hours used to be interrupted as pupils used to be engaged in fetching water," she said.
"The tank has [come] to our rescue and we indeed thank and appreciate our donors for considering our school. Having taken part in the hygiene and sanitation training held in the school, I boldly confirm today that I have been able to maintain my personal hygiene standards. My class performance has greatly improved and I do hope to pass with flying colors in my final exams. Thank you…we love you," Celine finished confidently.
There are other challenges yet to overcome by the Shamalago Primary School community, but on this day we were grateful to see, hear, and feel the impact these projects have made in just their first year of existence.
See The Water Project in 's Community »