October, 2019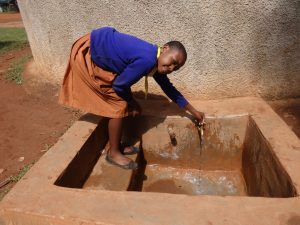 At Shihalia Primary School, after receiving their WaSH facilities last year things have really changed for the better.
Initially, the pupils at the school used to bring water from an off-site spring. They wasted a lot of valuable time looking for water that was meant for studies. General cleanliness, on the other hand, was not an easy task because of the lack of water. However, now the story has changed and Shihalia Primary School has improved their access to clean and safe water so that the pupils can now concentrate on studying.
"The project has really improved our image and changed our status in this community," said Deputy Head Teacher Mrs. Eunice Khatunyi.
"The school has increased population. Many pupils from neighboring schools that have no safe water facilities in their schools are moving to our school. Initially, a lot of time was being wasted in search of water. We are really grateful for the project, [and] we thank God for the provision of sanitation facilities."
14-year-old Joan Ilakosa also shared her perspective on how these projects have impacted her time at school as a student.
"In the past, we used to go to the river to fetch water and wasted a lot of time instead of studying. Now we have enough water for studying. We never used to wash our hands after visiting [the] toilet due to lack of water and handwashing facilities. Now we enjoy cleaning our classrooms daily, washing toilets and washing our hands after visiting the toilets."
See The Water Project in Joan Ilakosa's Community »