July, 2019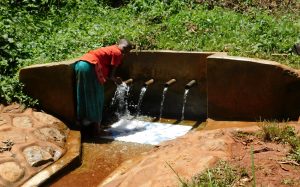 Implementation of the WaSH projects at Shilakaya Village has brought tremendous positive results in this community. On our most recent visit here, just like all of our previous visits, the warm welcome we received from this community is a clear indication of the satisfaction received from the project. The great energy and vigor individuals possess is in part a result of the good health each person is enjoying. The WaSH projects have united community members and for that reason, each person is now development-conscious. They have remained focused and determined to maintain Shanamwevo Spring well.
John Shilaho, the Chair of the Shanamwevo water user committee, was more than happy to sit down with us and share how the protected spring has changed his life and the lives around him.
"The WaSH project has brought with it very many positive results in our community," Mr. Shilaho said.
"The community has transformed in various ways. [For example,] the conflicts earlier experienced among neighbors due to minor disagreements…[are] now a thing of the past and we all live in unity. The financial resources that were initially used for medicinal purposes are now spent catering to development activities since people rarely go to hospitals for treatment of water- [and] sanitation-related diseases…You are a Godsend and [we] love you all."
12-year-old Befry Mwanje joined us at the spring during our visit. Befry was glowing as she shared her story with us.
"[I] am such a happy and very excited child, [I] am so fortunate to have been born in this community," Befry began.
"Initially, accessing water was a problem and many times I was scared of being sent to fetch water. Protection of our spring has boosted my morale and I find [it] fun going to fetch water."
"Most of my problems are in the past; clean and safe water [from an] easily accessible water source, reduction in diseases, good health, attending class lessons daily, and excellent academic performance is [now] my [share in life]…I no longer [have] diarrhea or…complain of stomachache, courtesy of you. God bless."
Shilakaya is a united community full of love and care for one another. A little over a year since its completion, Shanamwevo Spring is still intact and in good working condition. With 4 gushing discharge pipes, it continues to serve a huge population throughout all the seasons, even in drought.
The aesthetic value of the community has also significantly improved, as deep mud trenches are a thing of the past compared to the neat, safely accessible spring.
See The Water Project in Befry Mwanje's Community »