October, 2019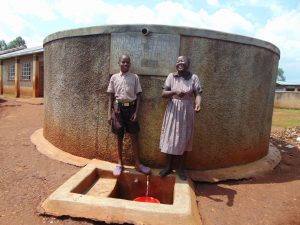 Since the completion of their WaSH projects last year, there have been great improvements at Shitaho Community School, reported our team on a recent visit.
Students and staff can now maintain a cleaner environment and the students' hygiene has improved thanks to the water from their rain tank. There is even enough water in the school that the teachers let students bathe at school since they might still be experiencing water shortages at home.
There is no longer a bad smell throughout the school grounds too since the increased number of latrines has meant less congestion and overuse at any one single latrine.
"Before the project, some children living with their grannies could come to school dirty but after the school benefiting from this project, teachers can wash them in the school and wash their uniforms," said Head Teacher Mrs. Jane Lodeki.
"The classes are cleaned on [a] daily basis [and] this has reduced allergies caused by dust. The toilets have been separated into 2 [blocks] for boys and girls, other than other years when the pupils would share the same toilets."
15-year-old student Melody Njeri reflected on what these WaSH projects have meant to her as a learner over the last year at school.
"We are very thankful for the project since time is saved and we attend [our] classes fully. We also have enough time for revision. Our school is shining because we clean every day. Absenteeism has also decreased compared to last year."
See The Water Project in Melody Njeri's Community »