September, 2019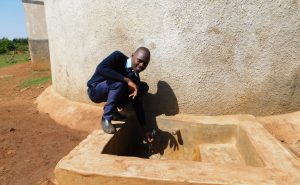 A year after their water projects were installed, Sipande Secondary School is now able to harvest enough rainwater to meet their daily needs. The many hours that the students once wasted looking for water are now being used in class to improve the academic standards and performance of the school. Students can now settle down in class and focus on academics without the worry of inadequate water.
The new VIP latrines have also eased the congestion in line for the bathroom that was being experienced before the implementation of the project. The school community is also able to access handwashing facilities in the school and they are therefore improving their hygiene standards. Students now clean their hands as frequently as possible. A year later, all of these facilities are viable and important to the students and staff at Sipande Secondary School.
"As a school, we are now able to access water from within our school compound without having to walk for a long distance in search of water," said Sanitation Teacher Mr. Kelvin Namasaka.
"The time we were using in search of water has now been converted to academic use. This could be the reason why our school recorded an improvement in our national exams late last year."
One of those students, 17-year-old Isaack Musalia, explained the impact he has felt from the water projects.
"Cases of absenteeism due to waterborne diseases have greatly reduced. The time we used to waste while searching for water is now being spent on classwork, thus [leading to] better academic performance."
See The Water Project in Isaack Musalia's Community »