October, 2019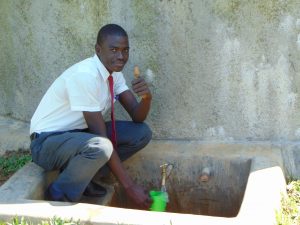 "Since the tank was constructed, our students no longer waste class time going to the river to fetch water. The queues at the latrines have also reduced. Our latrines were almost full and on the verge of collapsing. We are grateful that you came to salvage the pathetic condition of the school," said Teacher Mr. Alexander Idache of St. John Cheptech Secondary School.
On a recent visit there, our team caught up with teachers and students to hear how their WaSH projects installed last year have impacted their school experience.
With the small school population at St. John Cheptech Secondary, the 50,000-liter rain tank is providing safe, sufficient and affordable water for the school. With the additional introduction of clean water, VIP latrines, and handwashing facilities at the school, students have been enjoying more time to study since they can stay healthy, hydrated, and able to concentrate in class.
Student absenteeism from waterborne illnesses is now a thing of the past.
Derrick Magweli is a 19-year-old student at St. John Cheptech Secondary School. He reflected on how these projects have impacted his experience as a learner.
"The water tank has really helped us to stay healthy and not miss classes due to the recurrent cases of waterborne diseases. We can now redeem more time for studying because of the availability of clean water in the school. The toilets are also enough because we are a total of 65 boys. Miss Adema (a teacher) says that she no longer has to carry a heavy water bottle from home for drinking."
See The Water Project in Derrick Magweli's Community »