November, 2019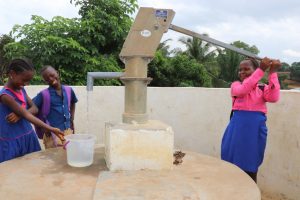 The rehabilitation of the well at St. John RC Primary School in Sierra Leone has led to significant improvements in the school over the past year.
"The intervention has reduced the distance and time pupils take to fetch water. Before now, they walked to neighboring communities in search of water. The pupils can now use water during and after using the toilet. They wash their hands clean with soap and water, a habit they have established from the teachings of your hygiene and sanitation team last year," said Deputy Headteacher Mohamed A. Kamara.
The school has changed in the area of sanitation and tidiness.
"Initially, when the water level falls in the dry season, most of us used paper to clean ourselves after toileting because there was no water, and talk less of a soap. However, the intervention of Mariatu's Hope, with regards to the rehabilitation of our well and also the hygiene and sanitation training, things have positively changed. We can now boast of having water and soap in the toilet and also fresh drinking water in all our classrooms," said 10-year-old student Marion Dumbuya.
Their toilets are well kept and clean, the school compound is well taken care of, and the handwashing station at the toilet is still up and running. Above all, the students are now coming to school clean and with complete uniforms. Our teams were impressed with the school administration for helping to keep the teachings and practices of the hygiene and sanitation in the school.
"Before this well was rehabilitated, to start with, during the dry season when the water table falls and the well could not produce enough water, or better still when the well dried, the kids engaged in varying degrees of unhygienic behaviors at the school. The rehabilitation of the well has rescued us from this great mess," said Mr. Kamara.
"Our pupils now come to school tidy every day, even their classrooms are kept tidy. I also want to use this opportunity on behalf of the school administration to thank your organization for the good work been done in the school and community. God blesses you all".
See The Water Project in Marion Dumbuya's Community »