October, 2019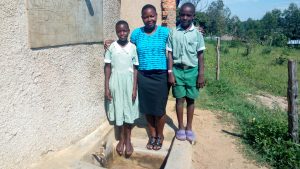 Since the implementation of the WaSH projects St. Joseph Eshirumba Primary School a year ago, a lot of goals have been realized among students and staff.
The school compound as observed on our most recent visit was very neat and clean, including the sanitation facilities, the classrooms, and the pupils themselves. All this is because of the availability of water in the school. The deputy headteacher also reported that the rate of absenteeism has gone down because there are now very few cases of waterborne diseases.
"The school population has increased from 314 to 350 and we are expecting more to come since we received the WaSH projects. On the other hand, the school has attracted more donors who have also stepped in and helped the school in [the] construction of 2 more classrooms. We strongly believe that the entry of [your team] in this school brought good luck. Lastly, our pupils are going to sit for the national examinations for the first time and with these facilities within our school compound, we believe their performance will be good," said Deputy Head Teacher Mrs. Mulima.
Gerald Makuba is a 10-year-old student at St. Joseph Eshirumba Primary School. Gerald reflected on his experience as a learner over the last year.
"Since the implementation of the handwashing facilities in our school, we have enough time to study as compared to other years when we had no facilities [like] the water tank. We used to carry water from home, [and] during class time we could be asked to go and bring water in between lessons and this really affected us academically."
See The Water Project in Gerald Makuba's Community »