July, 2019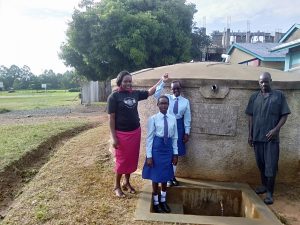 On a recent visit marking one year since the rain tank and sanitation projects were installed at St. Mary's Girl's High School, it is clear the projects have had a positive effect on this school.
The hygiene standards are very high as evidenced by a clean environment and spotlessly clean latrines, dormitories, and classrooms. The hygiene training concept was well received, and this, coupled with the water and sanitation facilities, have done wonders for this school.
Deputy Principal Mercy Luvai shared with us how these projects have changed the lives of her students and staff.
"We are very privileged [to] receive this second water tank, and to us, it was a great blessing," said Mercy.
"In the past, we had congestion at the first water tank. Then, [a different organization] came in with a borehole that was put up at the end of the field. This used to cause a lot of commotion in between the hostels and the fields but that is a thing of the past now. There is no more time wasted and we now have multiple water points. Washing and cleaning has been so easy for us. This school was [once] at a point of closure as it has a population of 1119 [students] and the facilities were not sufficient. We are so grateful for [you] considering us."
For 19-year-old student Stephanie Juma, life has never been the same at St. Mary's since the new water and sanitation projects were installed.
"For me, [now] I never have to worry about water in this school, and this has made me concentrate on my studies and have hope that I will perform well and join the university," Stephanie proudly reported.
"Thanks for creating an enabling environment for learning with the provision of the water and sanitation facilities," she added.
As our conversation with Stephanie continued, we discussed the challenges that many girls still face accessing enough sanitary supplies and safe environments to manage their menstruation. Stephanie said that the additional rain tank and latrines will help.
"A healthy girl who has no sanitation fears is not prone to diseases, and this will enhance her [school] performance," she said.
See The Water Project in 's Community »