November, 2019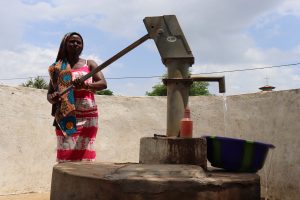 Their lives of people in Tagrin Community have improved in the past year because they no longer go to the swamp or streams to fetch water.
"Through my interviews, I can tell that the lives of the people transformed from where it was to a better state," reported field officer Omoh Emmanual after a recent visit to the well here.
"Since this project was completed last year, the changes that have happened are great. Now we have pure water to drink, even the passersby can testify that our water is pure," shared Joseph S. Koroma, a teacher at the nearby school and caretaker of the well.
These changes can be attributed to the reliable, safe well in Tagrin. In addition, things are improving for this community due to the application of the teachings of our hygiene and sanitation team who taught them about good and bad hygiene as a part of this project.
"My life has changed for good. Initially, the water in this pump was not good for drinking because it was dirty with a very bad smell. It got worse when the well went dry in the dry season," said 14-year-old Alusine J. Koroma.
"Now with the well rehabilitation, the water is colorless, tasteless and has no germs. I can say that because the pump is been treated frequently. Now the pump has rules and regulation which governs it. Water is always available and great for drinking."
See The Water Project in Alusine J. Koroma's Community »