November, 2019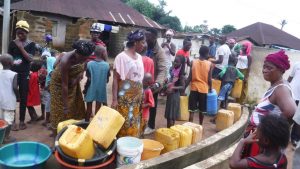 "Our suffering for water is currently a thing of the past," said Isha I. Sesay to our field officer during a recent visit to the well at Shyllon Street in Tintafor, Sierra Leone.
We spoke to her about the difference the well has made in her life a year since the project was completed.
"Kamasondo Stream used to be our alternative water source – a very deadly one for that matter. My brother, that stream has been relegated to use only for farming and laundry purposes. We are no longer worried about slipping and falling on our way up and down that steep hill," she said.
"The good thing is that we do most of our water-related works in our homes now. No more going down the stream."
The life of these project beneficiaries has greatly improved over the last year in the area of hygiene and sanitation. The community and the area around the well are clean.
These people have improved their hygiene and sanitation habits. They learned the lessons from our training team and are putting them into practice.
"As a sanitation and hygiene professional, before the interview was conducted, we went around the community to see how best they have improved their hygiene and sanitation. We were surprised to see latrines with handwashing stations up [and] running in this community," shared field officer Omoh Emmanuel.
"These changes occur through the effort of our staff working tirelessly to see that this community maintains every training that was given to them."
See The Water Project in Isha I. Sesay's Community »