November, 2019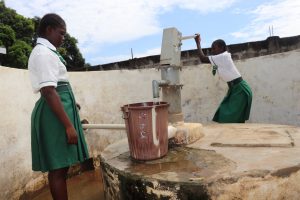 Life for the students at United Brethren Academy Secondary School in Sierra Leone has improved in the year since their well was rehabilitated.
This was evident during a recent visit by our field officers. They spoke with some students and teachers about their experiences since the construction and the accompanying sanitation and hygiene training. Student Aminata Janneh shared the 2 ways she has been affected by the availability of water from the well over the past year.
"My life has changed. Before, our teachers used to appoint pupils to go to the stream to fetch water which usually caused us to miss our first period. And secondly, our toilet used to smell because there was no water available in the school to take care of it," she said.
"But now everything has changed. We have clean and safe drinking water and our toilet is clean and the odor that used to come out has stopped. We have soap and water to wash our hands after using the toilet. We also have enough water in our classes which helps us to concentrate in class. All these changes occurred due to the water project that was completed in our school."
In the area of hygiene and sanitation, so much has improved over the past year. The school has upgraded in the area of sanitation to such an extent that it is apparent upon arriving at the school. The students look happier and everything is cleaner. A handwashing culture is emerging – something that is contributing, alongside the provision of safe water from the well, to fewer illnesses among the students.
"The project is good because our children have enough clean and safe drinking water. Our environment is clean because of this project that was implemented in this school and we are happy about that," said Komrabai Janneh, caretaker of the well.
See The Water Project in Aminata Janneh's Community »