October, 2019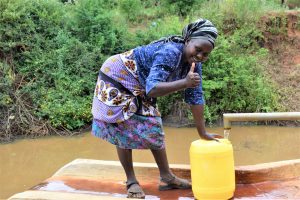 Uthunga community members are beyond excited about the fruits bore through the sand dam and hand-dug shallow well project constructed a year ago.
They are majorly applauding the reduction in the distance covered to access water and the quality of water attained this water point. The water is very fresh for drinking.
"My life has improved in the last year," said Florence Mwendwa.
"I used to wake up very early and walk to River Kinyongo which is 1 kilometer from my home to fetch water, a lot of time was wasted on queuing at the source. Now, I walk for less than 200 meters and spend at most 10 minutes to fetch five jerry cans of water."
The women from this community highlighted immense improvement on hygiene and sanitation during our recent visit. They said that an adequate supply of water has enabled them to clean their houses, latrines, and clothes on a daily basis. Food for their children is prepared on time and they are able to engage in other income-generating activities with the time they saved.
"I feel very empowered and confident in myself because I am more self-reliant than before," said Ms. Mwendwa.
Some 90 percent of the community members have established tippy taps for handwashing purposes, 80 percent have dug garbage pits and 100 percent have bathing shelters in their homesteads. Soapmaking is a frequent practice among the members as it helps them in sustaining cleanliness and proper hygiene.
"Cases of typhoid, amoeba and diarrhea which were very rampant are no longer being reported because people are enlightened on water treatment and the water is readily available," said Benson Mutua Kyuli, chair of the water user committee.
Men proudly stated that they are very comfortable with the site because it is near their homes and very safe for their wives to walk and fetch clean water. The members have expressed the project's ownership by the frequent check-ups of the project's functioning and also conducting repairs whenever they observe any issue. They have been enjoying a surplus supply of water throughout the year.
As a result of the harvested water, the environment has changed. Land productivity has improved due to increased water table level and the survival rate of the vegetation has increased.
"The sand dam project harvested a lot of water which has been instrumental in the farming of vegetables, kales, and tomatoes. We have witnessed extreme improvement in the standards of living in the past year. Idleness is rare because everyone is busy on their farms," Mr. Kyuli said.
See The Water Project in Florence Mwendwa's Community »