September, 2019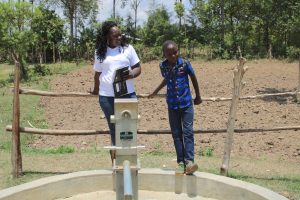 Since the completion of the water project in Vilongo Community last year, it is evident that there have been many improvements in the lives of people here.
One of the areas that improvement can be noticed is in the health of the community members. During our recent interviews with people in Vilongo, they confessed that ever since they started using water from the rehabilitated well, they had not been falling sick frequently like they used to.
It was also evident that they are using water from the well to grow some vegetables and practice irrigation and as a result, they have access to fresh vegetables despite the dry spell. This has allowed community members to achieve a more balanced diet which makes them strong and healthy. Since they are also not visiting hospitals frequently for the treatment of waterborne illnesses like they did before, they are reinvesting the money they used to pay in hospital bills for treatment and drugs in other areas.
This saved and reinvested money has led to the improved economic status of the people in Vilongo. These financial resources coupled with time saved fetching water means both the women and the young people are now engaging in income-generating activities like small business enterprises and brick-making. They are now earning some money to cater for their personal and family needs.
Since the initiation of the rehabilitated well in Vilongo, this community has been very cooperative and appreciative in every effort to make their water point functional. They have taken the training on hygiene and sanitation very seriously and implemented all that was on their action plan successfully. As a result, they are now experiencing positive changes in their community.
"Since the project last year, as a community we have experienced some changes in different ways, such as in health, where the community members are now healthier unlike before when they used to consume unsafe water," said Mr. Moses Wamoja, a member of the water committee inVilongo.
"Before, there ware cases related to waterborne disease but now they are not [here] and the community is healthier. Also, there is a great change in the economic status of the community members, especially the youths and the women. Before the water project, both women and children used to spend most of their time looking for water but now that burden has been softened and they are saving a lot of time which they are either using on studies or income-generating activities."
One of those youths is Brian Injendi, a 10-year-old boy who along with his family depends on the well for their daily water needs.
"Since the project was completed in our community, life has been so good and I am now very happy," Brian said.
"I am now improving in school performance because I have plenty of time to study unlike before. I also spend a lot of time playing with my friends and making new ones. I nowadays don't go very far to take my father's cattle to drink water at the river so I don't get tired, and so I help my mummy with some house chores and we are a happy family…There are no challenges that I face. [The main challenge we had] used to be water and now we have plenty of it."
See The Water Project in Brian Injendi's Community »