September, 2019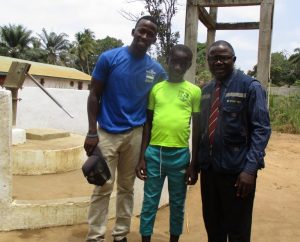 The well at New Life Clinic is still up and running a year after the project was complete. It supplies water to both the hospital and people living in nearby Yongoroo Community.
There is evidence of improvement in the hospital and surrounding community, said people to our staff as they reflected back on the years when the well was unable to supply enough water. The maternity ward was harmed by the lack of access to water, said Chief Health Officer Micheal N'danema.
People were suffering in order to fetch water. Much of what the clinic was treating in the past was related to waterborne illnesses. Most patients came with diarrhea, especially during the rainy season. A reliable source of clean water has helped decrease the number of diarrhea cases the clinic treats, Mr. N'danema said.
"My life has changed greatly from the risk I was going through every day walking down the hill every morning and evening after school to reach a spring near the local river. Now I have safe and clean drinking water available at my doorstep," said 15-year-old student Mohamed Kargbo.
"I go to school now on time, not thinking about going down the hill at night or morning."
See The Water Project in Mohamed Kargbo's Community »