March, 2017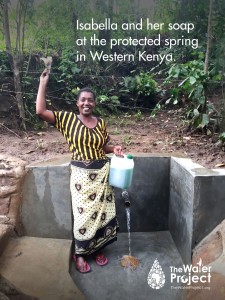 Isabella has seen it all. Last year her small community in Western Kenya had a horrible water problem. An unprotected, polluted spring, contaminated with disease, kept her entire community sick. She and her neighbors experienced water-borne illness, frequent sickness and an endless cycle of poverty. Sick kids miss school, and when the little money you have goes to doctor bills – nothing is easy.
When talking to Isabella about the way things used to be, she'll tell you: "But I didn't get discouraged… because I am a fighter."
Isabella and The Water Project partnered together to protect her community's' spring in 2016 and everything began to change. This protected spring, now flowing with life-giving water, keeps the entire community healthy. Healthy kids go to school, and when you're not spending the little money you have on doctor bills – you're starting a soap business made with now accessible, safe water.
The clean water source brought a "new normal" of health to the community. And, it unleashed the entrepreneur in Isabella. Isabella used to talk about dirty water, now she talks about business deals and market trends. Instead of managing illness and poverty, she's enjoying health, managing bulk soap orders and growing her business.
Through our regular monitoring and visits of Isabella's spring, we have heard more and more about Isabella's booming soap business. She knows has a full-time employee, has purchased a hand mixer to make more soap quickly and easily and has even been able to send her son to college. Her work is a premier example of strength and ingenuity and we celebrate her story and the impact clean water has made in her life.
While it may seem like one spring is just a drop in the bucket, Isabella Spring continues to provide safe drinking water to many people who are now more free to pursue their own vision for a flourishing life, like Isabella.
See The Water Project in Isabella's Community »