April, 2014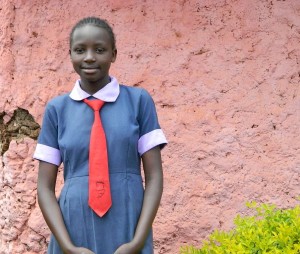 Lorna Chepkemei goes to Mahakini preparatory school. She has been in this school for the past eight years and she hopes to leave the school better than she found it.
Lorna hails from Kabiemit Village which is in Nandi District. She is fourteen years and the second born in a family of four. Her parents, Emily and Nickson Ng'etich, do farming so as to fend for the family. When not in school, Lorna and her siblings help around their house and accompany their parents to the farm during the planting season, water the animals, go to the river, cook, wash and take care of their younger sister.
Being smart and outspoken has earned Lorna a role in her school. She is the sanitary prefect. She ensures that the school is clean at all times by supervising the picking of litter and washing of latrines. Through the class prefects and the dorm prefects, Lorna also ensures that all classrooms and dormitories are cleaned. However, she claims that lack of water hinders the smooth running of activities during manual work time. On several occasions, she adds, the pupils have been forced to skip cleaning or alternatively, go to the river early in the morning to get water.
"The water from the river is not safe," she says, "it sometimes looks brown in color and smells like cow dung since the community members water their animals from the same source," she adds. Lorna claims that fetching water with the community at the same time is not easy as there are long queues as community members wait for water; the pupils also have to wait. She says that this really interferes with their study time, as they stay too long at the river.
"Sometimes we have our meals late due to water not being available in time," she laments, "it even gets worse when some of the pupils are rushed to the hospital and are diagnosed with typhoid due to consumption of contaminated water." Sometimes the school has to send the sick pupils home for treatment and this severely affects their academics.
Lorna hopes and prays that the school finds a lasting solution to their water problem. If a well is drilled in the school, her work as the sanitary prefect will be made easier. It is Lorna's desire that she and the rest of the pupils spend more time in their studies and co-curriculum activities instead of going to fetch water. "Clean and safe water will help curb cases of typhoid in our school and help us improve our hygiene status," says Lorna.
See The Water Project in Lorna Chepkemei's Community »