March, 2014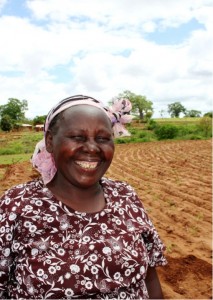 MEET LOISE MASILA
 It all began when Loise Masila, a 68 year old mother of twelve heard of Africa Sand Dam Foundation (ASDF) and together with her group members of Wuumisyo wa Kiumoni Self Help Group asked for ASDFs' support, through working together with them they have constructed four sand dams and one protected shallow well which has been their main source of drinking water.
After constructing the first sand dam which was sited at Loise's land she quickly learned how beneficial growing vegetables and planting fruit trees could be to her family. With the water from the sand dams Loise started planting fruits trees such as mangoes, pawpaw's, (papaya) graviola, and vegetables such as okra, spinach kale and tomatoes for consumption and selling the surplus to earn income.
PLANNING FOR THE FUTURE
Her smile provides a welcoming embrace to all she meets, but her ambitious plans for her big family are equally radiant. Her goal was to turn her major asset, her farm into an investment for the future. The more vegetable and fruits she grows, the more she diversifies her farm and her family's diet. Loise can also provide a better education for her children with extra income earned from the farm; she is not only a farmer but also a businesswoman with big dreams.
DECADES WITHOUT A SAND DAM
Despite drought and famine Loise would walk six kilometres a day in search of water for her family in Kiumoni village. Loise tells her story: "We relied on a piped water kiosk at the railway station in Ngwata which was many many miles away. During our long trek to the kiosk we would encounter buffalos posing a danger to our lives that was back in the year 1968, when the wild animals were still hovering around our homestead, because we border Tsavo National Park.
In1976 the situation became better because a villager dug a shallow well and would sell to us a twenty-liter jerrican for one cent. In 1980's due to heavy rains and desertification, a river formed but it only had water during rainy seasons. In the dry season we would dig very deep scoop holes to get only a few jericans of water, which tasted very salty. Also, there used to be very long queues at the scoop hole since the entire village depended on it as their only source of water."
MOVING FORWARD TOWARDS A BETTER FUTURE
Today, thanks to the ASDF in partnership with The Water Project there is new hope and dreams within the Self Help group where Loise is a member, because of a newly constructed shallow well in one of their sand dams. With water from the shallow well farmers have been able to get clean water for drinking, grow vegetables for home consumption and then go on to sell the surplus to buy goats. As of September 2013, the group has bought four goats. The women also work together to dig farm terraces so as to curb soil erosion and improve farm production.
For women like Loise who no longer have to make this dangerous journey to collect water, they now have the time and the means to turn their lands into a profitable mix of agriculture both rain fed and irrigated. Instead of walking six kilometres a day in search of water, the women in the group can till their farms and even have time for attending weekly group meetings to discuss challenges and how to overcome them and plan ahead for their future and their children's future. 
See The Water Project in Loise Masila's Community »