December, 2013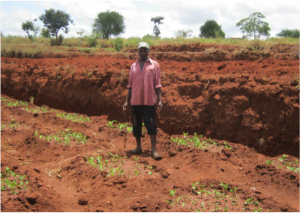 With the support from The Water Project (TWP) through ASDF, Maiuni Self Help Group in Kivaani Village, Makueni County, have built one sand dam along river Ngwani.
BENEFITTING FROM SAND DAMS
The group has reaped many of benefits from the sand dam, which they constructed last year and is now full of water. Water from the sand dam is being used to establish tree nurseries and group members sub-divide the tree seedlings to plant in their farms. They have grown some vegetables near the sand dam and they are planning to expand the farm in future for large scale farming in order to supply vegetables to the local markets. Their livestock health has improved since they have enough water all year round.
INCREASED HEALTH AND HYGIENE
Hellen Munini a mother of six and also a member of the group spoke with ASDF and told the field staff, "We don't buy vegetables such as kale from the market anymore, because we can now grow it ourselves, thus putting the money to other use. Other positive impacts of having the sand dam and the availability of water, is our personal hygiene.  We can now bathe daily and wash our clothes frequently, as we are not worrying about running out of water to drink or for our farms. Water collection time has reduced significantly.  It only takes use 30 minutes to get water from the sand dam and we have plenty time to dig terraces and till our farms."
TERRACING AND DIVERSIFYING CROPS
Peter Kititu who is a farmer and lives near the sand dam has been utilizing sand dam water to grow vegetables. Recently ASDF staff took the time to sit down with Peter to ask him how the sand dam has helped him in his life. In an interview Peter stated, "I have gained knowledge on improved planting practices since participating in the self help group and having access to the water from the sand dam. I have so far planted 130 trees, dug adequate sized terraces on my farm and planted banana trees in them. I have also started horticultural farming by growing French beans on my two acre piece of land and I am optimistic that selling these beans will improve my income. I hope to earn more than kshs 70,000 from the beans." (approximately USD 821.00)
LONG TERM BENEFITS
The effects of sand dams on the lives of Kenyans indeed, does not lie.  The positive ramifications of such dams and subsequent access to clean water means improved health and hygiene, improved farming techniques which lead to better nutrition and supplemental income which can provide an economical safety net to many farmers and their families in Kenya, that would ordinarily not have such a luxury. That is no lie.
See The Water Project in Peter Kititu's Community »