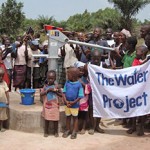 As the student body of Providence Christian Academy digs deep into community, faith, and outreach; they are coming together to help dig deep into a community less fortunate than their own. Our goal of $7,000 is to help provide safe, healthy, and clean drinking water for a community lacking this basic necessity.
So then, just as you received Christ Jesus as Lord, continue to live your lives in him, rooted and built up in him, strengthened in the faith as you were taught, and overflowing with thankfulness.
Colossians 2:6-7
---
Did you know nearly 1 billion people don't have safe water to drink?
Together, we can change that. Let's fund a new source of drinking water for those who suffer needlessly without it!
Our gifts will be used to construct or rehabilitate a water project, like a well or sand dam, in Africa. We'll see pictures, GPS coordinates, and updates as they come in from the actual water project we fund so we can celebrate the results along with the community we help.