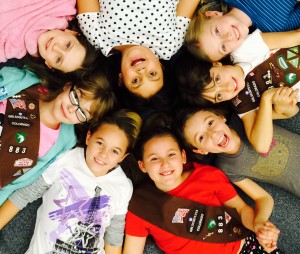 The girls in the Girl Scout Troop 883 Brownie Unicorn Patrol have chosen to raise funds for The Water Project as a way to take action to make the world a better place. When asked why they wanted to raise money for The Water Project this was their statement of purpose:
"Kids need access to good water in order to be healthy and have time for school. We want to help people in Africa who don't have access to clean, healthy, fresh, yummy, delicious, stupendous, drinkable water."
The Brownies have already raised over $500 selling craft items they made at local sales! Please consider supplementing their efforts with an online contribution.
---
Did you know nearly 1 billion people don't have safe water to drink?
Together, we can change that. Let's fund a new source of drinking water for those who suffer needlessly without it!
Our gifts will be used to construct or rehabilitate a water project, like a well or sand dam, in Africa. We'll see pictures, GPS coordinates, and updates as they come in from the actual water project we fund so we can celebrate the results along with the community we help.