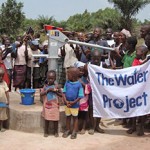 Through the Works of Mercy, we as Christians are called to "Give drink to the thirsty". In educating ourselves on the importance of clean water, we are able to help others without this life-saving need attain clean water and learn how it impacts their community for the better.
Please help us attain our goal by donating to this worthwhile project!
Yours in Christ,
St. James Confirmation Program (Rocky Hill, CT)
---
Did you know nearly 1 billion people don't have safe water to drink?
Together, we can change that. Let's fund a new source of drinking water for those who suffer needlessly without it!
Our gifts will be used to construct or rehabilitate a water project, like a well or sand dam, in Africa. We'll see pictures, GPS coordinates, and updates as they come in from the actual water project we fund so we can celebrate the results along with the community we help.