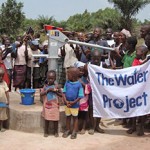 After learning about the terrible fact that many African communities do not have access to clean water, these 3rd graders decided to do something about it! The students in the 3rd grade at St. Stan's have been raising money by doing chores, having lemonade stands, and helping in other ways. They have donated their own money to this cause, but now they need your help! "Our goal is to raise $1,000 or more. Even the smallest bit of money can add up and save a life!"
---
Did you know nearly 1 billion people don't have safe water to drink?
Together, we can change that. Let's fund a new source of drinking water for those who suffer needlessly without it!
Our gifts will be used to construct or rehabilitate a water project, like a well or sand dam, in Africa. We'll see pictures, GPS coordinates, and updates as they come in from the actual water project we fund so we can celebrate the results along with the community we help.