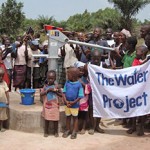 To David, water meant LIFE.
He was acutely aware of the fact that it was because of water that he receive his source of income (fixing leaky foundations), and he wanted to return to the world what he had received in abundance.
David's goal was to provide a village with clean water. He believed that this this would be the basis for a clean, healthy life and he wanted to ensure that those that need it most have an opportunity to enjoy it.
Please help in fulfilling another item on David's "bucket list".
---
Did you know nearly 1 billion people don't have safe water to drink?
Together, we can change that. Let's fund a new source of drinking water for those who suffer needlessly without it!
Our gifts will be used to construct or rehabilitate a water project, like a well or sand dam, in Africa. We'll see pictures, GPS coordinates, and updates as they come in from the actual water project we fund so we can celebrate the results along with the community we help.